Installation NACHTSCHATTEN, CIRCUS EINS, Putbus 2019
german version below
EXPOSE AND SHADE
Some remarks on the installation NIGHTSHADES by the german painter R.J.Kirsch
""I proposed to spread on a sheet of paper a sufficient quantity of the nitrate of silver and then to set the paper in the sunshine, having first placed before it some object casting a wel! defined shadow. The light, acting on the rest of the paper would naturally blacken it, while the parts in shadow would retain their whiteness. Thus I expected that a kind of image or picture would be produced, resembling to a certain degree the object from which it was derived. I expected however also, that it would be necessary to preserve such images in a portfolio, and to view them only by candlelights: because, if by daylight, the same natural process which formed the images, would destroy them, by blackening the rest of the paper.""
Some Account of the Art of Photogenic Drawing, William Henry FoxTalbot 1839
In a darkened room of approx. 30 sqm, an object hangs in the middle, which is illuminated by three flashlights resting on a pedestal and casts a wall-filling shadow. This shadow image consists of many coloured segments that flow constantly into each other corresponding to the gentle rotation of the object.
Rolf Kirsch is a painter and, according to his own statement, committed to the ideas of Fluxus. As a result, his interest has always been in excursions beyond the horizon of pure painting. Not least the examination of the rapidly developing electronic image processing led to a whole series of works that investigate the relationship between traditional and new pictorial media. "The Painter in the Dark" was the title of a series of exhibitions in which the painter and conceptual artist presented his artistic examination of recent years. The darkness addressed in this title also describes the general working conditions for the painter, who has to fear more and more that his craft seems obsolete due to the dominance of electronic, digital image processing. In his installation "Nachtschatten", Kirsch currently shows that this title is not only to be understood metaphorically, but also concretely.
All technical pictures are shadow images
In this context, Kirsch develops his confrontation with shadow projections. In principle, he follows the tradition of the photogram, a working method that was founded in the 1920s by artists such as Christian Schad, Laszlo Moholy-Nagy and Man Ray. Based on the famous "Light-Space-Modulator" by Bauhaus artist Moholy-Nagy, Kirsch stages his photograms from a cinematic understanding. Thus his projections are subject to constant change due to the continuous movement of the shadowing objects. These do not lie flat on photographic paper, but "float" in space. The working method is as simple as it is astonishing: the objects positioned in front of the projection screen are illuminated by point-shaped light sources in the three basic colours. The resulting shadow images overlap and mix at the same time. Light, half-shade and core shadow result in a colourful image. Minimal air movements, triggered by a passing audience, cause the object hanging on a thread to rotate constantly, thus creating a permanent "film".
Parallel to this, Kirsch presents photograms of his shadow images as an edition, giving them a material presence and thus turning the handling of light into a truly painterly act.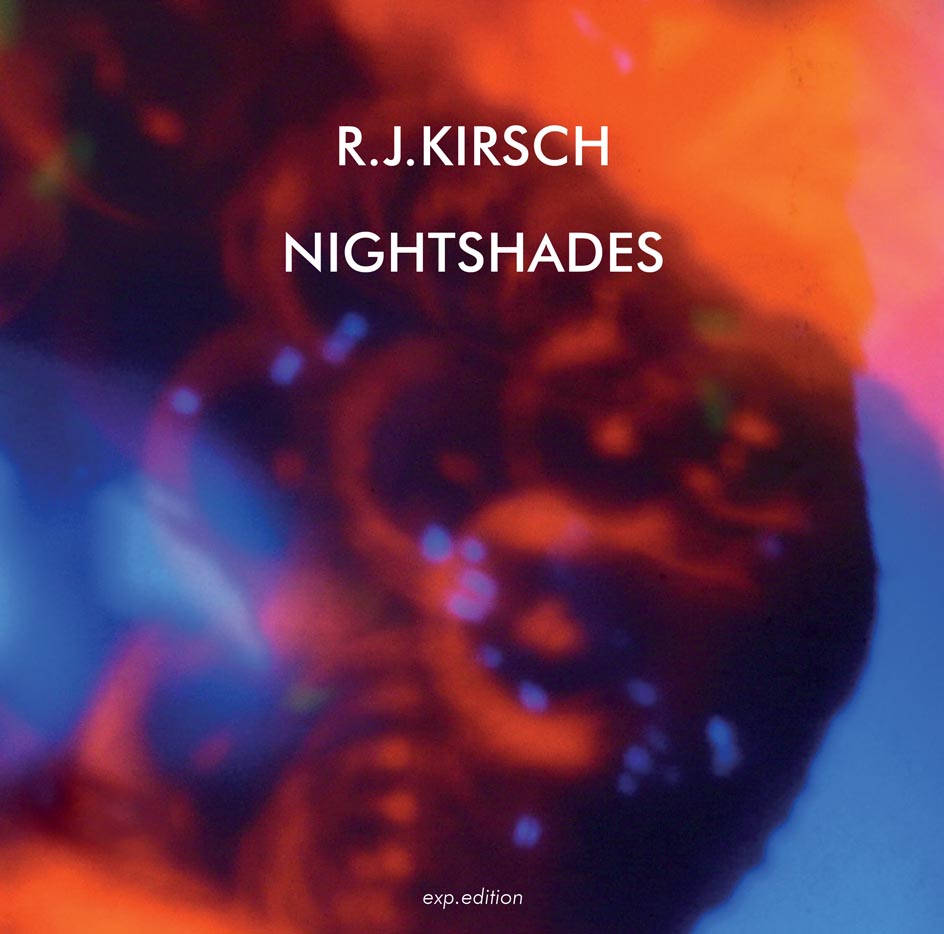 Booklet R.J.KIRSCH | NIGHTSHADES, 16 pages, 2018, 30 x 30 cm, exp.edition@netcologne.de
Fotogramm
Zu den Schattenbildern des Kölner Malers R.J.Kirsch
"Ich beabsichtigte, auf einem Blatt Papier eine ausreichende Menge Silbernitrat zu verteilen und das Papier dann in den Sonnenschein zu legen, nachdem ich einen Gegenstand davor platziert hatte, der einen gut definierten Schatten wirft. Das Licht, das auf dem restlichen Papier wirkte, würde es natürlich schwärzen, während die Teile im Schatten ihre Weiße behalten würden. So erwartete ich, dass eine Art Bild oder Abbildung produziert werden würde, das dem Objekt, von dem es herrührte, bis zu einem bestimmten Grad ähneln würde"
Some Account of the Art of Photogenic Drawing, William Henry FoxTalbot 1839
In einem ca. 30 qm großen abgedunkelten Raum hängt in der Mitte eine Objekt, das von drei auf einem Sockel ruhenden Taschenlampen bestrahlt, einen wandfüllenden Schatten wirft. Dieses Schattenbild besteht aus vielen farbigen Segmenten, die korrespondierend zu der sanften Drehung des Objektes ständig ineinanderfließen.
Rolf Kirsch ist Maler und der eigenen Aussage nach den Ideen des Fluxus verpflichtet. Infolgedessen galt sein Interesse von jeher Ausflügen über den Horizont der reinen Malerei hinaus. Nicht zuletzt die Auseinandersetzung mit der sich rapide entwickelnden elektronischen Bildverarbeitung führte zu einer ganzen Reihe von Arbeiten, die das Verhältnis von traditionellen und neuen Bildmedien untersuchen. "Der Maler im Dunkeln" hieß dann auch der Titel einer Reihe von Ausstellungen, in denen der Maler und Konzept-Künstler seine künstlerische Auseinandersetzung der letzten Jahre präsentierte. Die Dunkelheit, die in diesem Titel angesprochen wird, beschreibt auch die allgemeinen Arbeitsumstände für den Maler, der immer mehr befürchten muss, das sein Handwerk infolge der Dominanz elektronischer, digitaler Bildverarbeitung obsolet erscheint. Dass dieser Titel dann nicht nur metaphorisch, sondern auch konkret zu verstehen ist, zeigt Kirsch aktuell in seiner Installation "Nachtschatten".
Alle technischen Bilder sind Schattenbilder
Vor diesem Hintergrund entwickelt Kirsch seine Auseinandersetzung mit Schattenprojektionen. Prinzipiell folgt er hierbei der Tradition des Fotogramms, einer Arbeitsweise, die bereits seit den 1920er Jahren durch Künstler wir Christian Schad, Laszlo Moholy-Nagy oder Man Ray begründet wurde. In Anlehnung an den berühmten "Licht-Raum-Modulator" des Bauhauskünstlers Moholy-Nagy inszeniert Kirsch seine Fotogramme dabei aus einem filmischen Verständis. So unterliegen seine Projektionen einer ständigen Veränderung aufgrund der kontinuierlichen Bewegung der beschattenden Objekte. Diese liegen dabei nicht flach auf einem Fotopapier, sondern "schweben" im Raum. Die Arbeitsweise ist ebenso simpel wie verblüffend: Die vor der Projektionsfläche positionierten Objekte werden von punktförmigen Lichtquellen in den drei Grundfarben angestrahlt. Die gleichzeitig daraus resultierenden Schattenbilder überlagern und mischen sich. Licht, Halbschatten und Kernschatten ergeben ein farbiges Bild. Minimale Luftbewegungen, ausgelöst durch vorbeiwandelndes Publikum, versetzen das an einem Faden hängende Objekt in ständige Rotation und erzeugen somit einen permanenten "Film".
Parallel dazu präsentiert Kirsch Fotogramme seiner Schattenbilder als Edition, gibt ihnen materiale Präsenz und macht so den Umgang mit Licht zu einem tatsächlich malerischen Akt.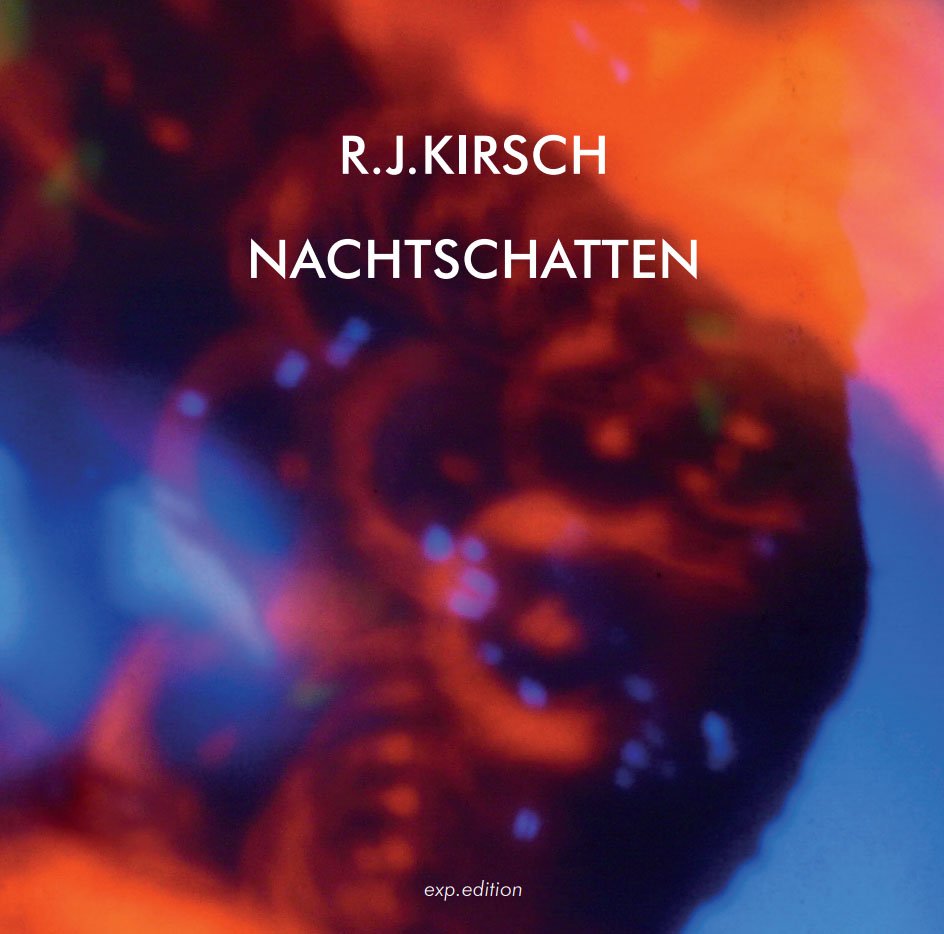 Broschüre R.J.KIRSCH | NACHTSCHATTEN, 16 Seiten, 2018, 30 x30 cm, exp.edition@netcologne.de